First dates can be quite hard to plan. Should you do what everyone else does and stick to the basics of going to dinner, or watching a movie? While there's nothing wrong with that, it's nice to step outside of your comfort zone and try a new activity. It will not only be a new experience for you but may help to break the ice a bit and possibly impress your first date. Here are some unique and fun first date ideas you should definitely try out.
1. Watch the Sunrise
The first on our list of first date ideas is to watch the sunrise with your date. Now, this activity may not be pleasant for those who do not like getting up early, but it's definitely worth doing if you enjoy nature and is a great way to start your day. You could make the date more eventful by having breakfast together afterwards.
2. Visit a New Restaurant
Spice up your dinner date by eating at a new restaurant you haven't been to before. It can be a little risky, but you never know, you could discover your next favorite spot.
3. Drive-In Theater
Watching a movie is definitely overdone when it comes to first date ideas, but you can put a twist on it by watching a movie outdoors, or at a drive-in theater. That allows you to have the freedom to also chat during the movie without being shushed by others and get more comfy by bringing chairs, pillows and blankets.
4. Rock Climbing
If you both enjoy adventure, take your date to new heights and go rock climbing. You're sure to have lots of fun and an exciting experience to remember. Just make sure your date isn't scared of heights though.
5. Art Gallery
Indulge in some modern and historical art by taking your date to an art gallery or an art exhibit. It can be a great place to learn about each other's interests and practice your conversational skills.
6. Take a Cooking Class
Cooking with someone can be a great, hands on experience that allows for discussion as well. Remember to take it easy and just have fun. Discover who's better in the kitchen, learn something new, and enjoy a delicious treat at the end.
7. Go Hiking
Opt for a casual first date and go hiking or stroll through your favorite park. This is a great way to spend time and get to know someone while also enjoying nature. I would suggest doing a short trail to avoid being worn out. You can even pack some snacks to enjoy on your trail.
8. Try an Escape Room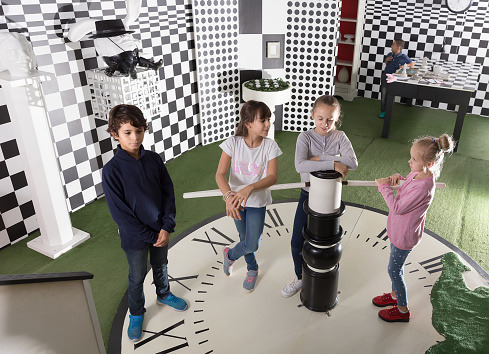 Another interesting activity on our list of first date ideas is to try and escape from an escape room. This is sure to allow you to get to know your date and will enable you to work together as a team. These days, there are a variety of themed rooms to choose from, so pick one that interests you both.
9. Take an Art Class
Bring out your inner artist and take an art or painting class. These classes are offered in most cities these days, and even if you know nothing about painting, it's a great way to learn and try something new. This is also a great activity to spark your creativity and help each other with your technique. In the end, you'll have a piece of art you can display in your home.
10. See a Comedy Show
Switch it up a bit and hit up a comedy show or open mic night. You are sure to have a great night filled with laughter (or not, if the jokes suck) giving you something to talk about afterwards over drinks.
11. Picnic
Transform your stroll through the park by having a picnic lunch on the grass. This is a great, simple activity if the weather is pleasant. Pick up some fruit, snacks and drinks from the grocery store, lay out a blanket, relax and get to know your date better.
12. Board Game Cafe
Board Game Cafes are a cozy, and chill place to spend some time. Play your favorite games with your date while enjoying some delicious coffee drinks. This can also be a blast as a group activity. You are sure to have a great time.
13. Walk a Dog
In the world of first date ideas, you may not have heard this one before. If you or your date has a dog, then take them out for a walk together. You can even stop by a dog park and check out what other pups are up to.
14. Bike Ride
A great way to get some exercise in is to go on a bike ride with your date. This is a great chill activity to spend time with each other, as well as enjoy the weather and your surroundings. You can even make a few stops along the way to get some snacks, ice cream or coffee.
15. Go to a Karaoke Bar
It's definitely worth a try even if you or your date may not be the greatest at singing. Have fun, enjoy the moment and bond with your date. This could also be a fun activity with a group, to help break the ice.
16. Attend a Yoga Class
This is a great activity to de-stress and stretch your muscles after a long day. So grab your workout clothes and your date, and head over to a yoga class at the gym for some fun. You could also do yoga at a park, to spice it up a bit.
17. Play Video Games
You could always stick to something simple and opt to play video games with your date. Head over to an arcade, or stick to your living room. Some friendly competition is a great way to get to know your date better, and have some fun.
18. Pottery Class
Get creative and make some cool vases to decorate your home. If you've both never done this before, then get prepared for things to get a little messy. Take it easy and remember to just have fun, even if your vase turns out to be a disaster.
19. Go to a Museum
Have a casual first date at the museum and get a chance to see each other's perspective on life and the world based on art. There will be countless ways to keep the conversation going around you, so no need to work about awkward silences.
20. Go to the Beach
If you live close to the beach or have easy access to it, then definitely utilize that opportunity and do a beach date. Get some Vitamin D, go for a swim and then end the day off with a romantic walk as the sun sets in the background.
21. Restaurant Hop
Instead of deciding to eat at a single place, restaurant hopping can make for a fun dinner or lunch date. Make a list of your favorite restaurants or restaurants you've been meaning to try out, then hop over to a few of them and try one item on the menu.
22. See a Psychic
This one isn't for everyone, but if you're into this kind of thing, then it definitely falls on the list of unique first date ideas, and is sure to be memorable. Besides, what better way to find out if you're meant to be together forever, right?
23. Horseback Riding
It's like a date right out of the movies and a perfect way to spend the afternoon. Many ranches/stables these days offer horse riding trails for a reasonable price, and it's perfect for beginners, if you have no previous riding experience.
24. Make Dinner Together
Spice up a dinner date, by making dinner yourself. Cooking with your date can be fun and give you a chance to work together. Choose a dish you've never made before or are too intimidated to make, to make the experience more interesting.
25. Kayaking
The perfect activity for outdoor enthusiasts, especially those that enjoy water activities. Try to choose a two-person kayak so you can be close to your date and communicate easily.
There you have it, a list of unique first date ideas for your next date. So if you have an upcoming date, or are looking for something different to do, browse this list for some ideas to have a great time, and maybe even score yourself a second date.